A truly great cup of coffee requires premium ingredients and high quality brewing equipment. Our tea and coffee delivery service takes care in supplying you with both so your only concern is enjoying a great cup of coffee, as it was meant to taste. We offer gourmet coffees, k-Cups, premium teas, purified water, a variety of coffee brewers, and more for both home and office.
Please don't hesitate to contact us and request a quote
We'll install pour over or automatic coffee brewers from Bunn, Keurig or Bloomfield in your location. (Free!)
We'll customize your cabinets to accommodate the coffee equipment if necessary. (Free!)
We'll maintain the coffee equipment on a regular schedule. (Free!)
Choose from a variety of delicious coffee and tea pouches, bags, and K-cups (details below)
To have coffee and tea delivered, simply place an order using our new Online Order Form.
We'll contact you one day before your delivery to confirm your coffee and tea order.
No contract required
To get started, click the button below to request a price quote for your office.
Choose from a delicious variety of Vittoria coffee flavours.
A trusted and loved brand throughout North America.
Vittoria Coffees
Vittoria Regular
Vittoria Decaffeinated
Vittoria Exclusive Blend
Vittoria Breakfast Blend
Vittoria Mocha Java
Vittoria Colombian
1.5oz, 1.75oz, and 2oz bags
42 and 64 Packs
Organic / Fair Trade
Vittoria's organic coffee is produced using farming methods that respect the environment without the use of pesticides and chemical fertilizers.
Vittoria's  K-Cup Products:
Colombian Mellow
House Blend
Breakfast Blend
Donut Shop
Water Decaffeinated
French Roast
Or, choose from our large selection of K-Cups
K-Cup Coffees and Teas
Tim Hortons, Green Mountain
Van Houtte, Vittoria
Starbucks, Timothy's
Tully's, Grove Square
and much more…
Choose from the best coffee brewers on the market.

BUNN® has grown into a global brand and is now a trusted partner of choice for quality home brewers and commercial dispensed beverage equipment. They built there business on a humble passion for making it simple to create quality in every cup for every occasion.

With Bloomfield you can count on pouring a great cup of coffee every time. All Bloomfield products are proven and efficient with their compact low profile brewing systems that are designed to take advantage of the highest grade electrical components.

Keurig® Commercial Brewing Systems are built to keep your business going all day with gourmet, single cup coffee, tea, cocoa, and more. Whatever the size of your business or food service location, we'll help you choose just the right brewer.
Complementary Coffee Services
Great coffee requires great water.
We also have great solutions for what water to use in your coffee.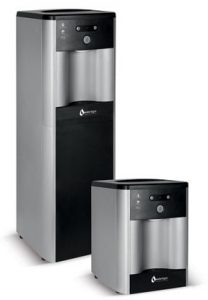 Point of use water coolers purify your water as you need it. They deliver premium water without the hassle and space needed to store bottled water. A water line can be fed from the point of use water cooler directly to your coffee brewer giving you hassle free premium coffee.
Blue Ridge Premium Bottled Water
Bottled water is always the purest choice. Blue Ridge Premium Bottled Water is purified to meet the highest standards and tested daily making certain we always deliver a high quality product. Using our premium bottled water ensures a high quality great cup of coffee.